Custom Vehicle Graphics by Web Samurai provides high quality, innovative design to help increase visibility and maximize exposure for your company.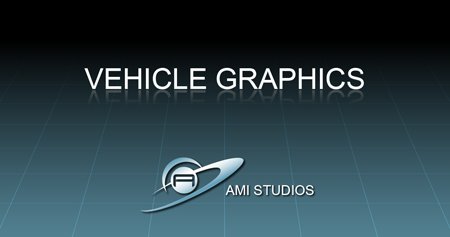 Vehicle Wraps continue to gain popularity as competition for ad space increases and advertising prices soar.
High profile vehicle wraps can be designed, printed and installed once and will deliver many years of visibility for your business, products and services.
Customize your vehicle with attractive high impact graphics and have them printed and installed on a budget you can live with.
What to look for in a vehicle design company.
There are many frustrating elements inherent in designing custom vehicle graphics, which most artists are not familiar with and will not foresee, due to lack of knowledge in this particular medium.
Vehicle wraps are much different then designing brochures and postcards. Even large scale graphics for billboards, banners and posters are not nearly as complex as designing custom vehicle graphics.
Flat 2 dimensional surfaces are standard for print graphics, but when producing a custom vehicle design, you want an artist that has experience working with graphics for the 3 dimensional surface of a vehicle.
Andrew Hall has been designing vehicle graphics for Las Vegas businesses since 2001. Years of experience in this unique field of advertising makes Andrew Hall Design a smart choice for your vehicle design.
Don't take chances when considering a vehicle wrap. Call or email Andrew for a quick Q and A and avoid costly mistakes.
Types of Vehicle Graphics
Full Wrap
Partial Wrap
Window Graphics
Custom Vehicle Design
Fleet Vehicle Design
Vinyl Lettering
Vehicle Graphics Installation
Vehicle Design Guide
Whether your vehicle design will be used for commercial or private use, you should interact with the design team throughout the creative process. Be sure you are allowed to preview the artwork as the work progresses. Your feedback is crucial to the success of the project and I encourage you to suggest modifications whenever necessary. Your goal is to attain graphics that you are proud to display on your vehicle and that can't be accomplished without your input.
Total design time will vary but typically vehicle graphics require 15 to 40 hours of design time, depending on the complexity of the design, efficiency of the design team, number of revisions.
Vehicle Graphics Kit
Compile the following information before starting your vehicle design project.
Vehicle information
Year, make and model, along with photos of the vehicle
Company information (for commercial vehicles)
Name of your company
Company slogan
Company website
Phone Number
Company history
Your mission statement
Who are your customers?
Testimonials from satisfied customers
Do you have specific colors that represent your company brand?
If so what are they?
Product information (for commercial vehicles)
What is your product or service called?
What does it do?
How does it work?
How does it benefit your customers?
Photos and other media
Photos of your vehicle
Photos of your product
Photos of people using your product
Scanned or original copies of any marketing material you currently have will be helpful.
Decide on the type of wrap and design that's best for you
Full Wrap
Partial Wrap
Window Graphics
Custom Vehicle Design
Fleet Vehicle Design
If you're willing to run a promotional event such as "Mention our vehicle ad and receive 10% off" it will help you measure the success of your campaign. Make the promo unique so you know exactly where leads are coming from.
It's also critical to include your website in all vehicle graphics to drive visitors and traffic to your website.
Learn more about Web Promotion at WebSamurai.net